Sonicare Elite
[<< Back to Sonicare Information Main Page]
How does it work? | Why use Sonicare? | Clinical Studies | Features Explained | Compare Sonicare Models
Sonicare Elite | Sonicare Intelliclean | Sonicare Essence | Sonicare Advance | Sonicare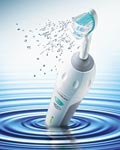 The Sonicare Elite's bristle tips move three times faster than all other leading power toothbrushes - the patented sonic technology creates high speed bristle motion and dynamic fluid cleaning action.
The advanced brush head design and the slim, angled neck directs this powerful cleaning action into hard-to-reach areas for 20% better plaque removal between teeth (when compared to the original Sonicare toothbrush), while also cleaning below the gumline and behind back teeth.
The Sonicare Elite's superior cleaning technology is the best way towards naturally whiter teeth and healthier gums.
Unique Technologies:
Smartimer® - Two-minute timer ensures full dentist-recommended brushing session.

Easy-Start® - Gradually increases brushing power over first 14 uses to help new users.

Quadpacer® - 30-second interval timer for encouraging thorough brushing of each quadrant of your mouth.
Clinically Proven:
Highly recommended and/or personally used by dental professionals.

Patented sonic technology.

Clinically proven to reduce staining from coffee, tea, and tobacco products.

Retards progression of gingivitis by shrinking pockets of periodontal disease.
User-Friendly Features:
Dual speed control - High speed for removing plaque and low speed for more sensitive areas.

Extra soft bristles - Contoured bristles have 3 levels of softness ensure deep, but gentle cleaning.

Ergonomically tapered handle for easy handling.

Luxury soft grip (7500/7650/7800/9500/9800 Models only) - improves hold on brush.

Deluxe recharge gauge (7500/7650/7800/9500/9800 Models only) - Shows battery charge status and helps track battery level.

This product is UL listed.
Outstanding Customer Service:
2-year Limited Warranty
28-day Results Guaranteed