Sonicare Elite 7300 Electric Toothbrush
[
<< Back to Sonicare Elite Main Page
]
Sonicare Elite 9800 | Elite 9500 | Elite 7800 | Elite 7650 | Elite 7500 | Sonicare Elite 7300 | Elite Brush Heads | Elite Accessories | Compare Models | Sonicare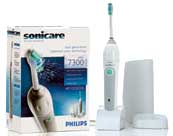 The Elite 7300 is the standard or basic Elite model. The 7300 series lacks the bells and whistles of the 7500, but does not sacrifice any of the new Sonicare Elite cleaning power. It differs from the Elite 7500 in the following ways:
It lacks the deluxe recharge guage of the 7500, which displays detailed battery charge status and helps track battery level. Instead, the 7300 has a dual color indicator which blinks yellow when charge is low and glows green when full.
It does not have the dual speed control of the Elite 7500.
Package includes:
1 Sonicare Elite 7300 Toothbrush
1 Brush head
1 Charger base with easy-wrap cord
1 Brush head holder
1 Compact travel case
Elite 7500 Features:
Patented sonic technology
Smartimer
Easy-Start brushing power ramp-up
Extra gentle bristle design
Quadpacer
Superior cleaning technology
Ergonomic tapered handle
Dual color recharge indicator
---
Where to buy
Buy Sonicare Elite 7300 ($89.99 | Smilox.com)
Purchase Sonicare Elite 7300 (Drugstore.com - $94.99)