Opalescence
Opalescence tooth whitening gel from Ultradent offers syringe delivered carbamide peroxide gels in 10, 15, 20 and 35 percent concentrations. Opalescence-35 is the strongest formulation considered safe for dentist advised teeth whitening at home.
Clinically proven to whiten natural teeth, Opalescence lightens internal discoloration caused by medication or tooth trauma, as well as superficial stains from foods, drinks and smoking. Fillings and bonding materials remain unaffected.
All OpalescenceŽ whitening gels use the PF formula, indicating the gel contains ingredients best for sensitive teeth. Potassium Nitrate (P) desensitizes the teeth while Fluoride (F) rebuilds tooth enamel.
The uniquely viscid gel of Opalescence allows it to stay active longer than other whiteners, offering extended bleaching times of up to 10 hours. The tooth whitening kit includes gels, instructions and impression materials for creating custom dental trays from home. Read more.
Categories:
By Strength:
---
35% Opalescence PF Bleaching Gel

35% MAXIMUM Strength Gel from Opalescence whitens teeth in less than 30 minutes per treatment. This gel is for those with healthy, non-sensitive teeth.
---
20% Opalescence Whitening

20% HIGH Strength Opalescence bleaching gel offers whitening power and flexible wear times. It can be used in as little as 30 minutes per day, or up to 2 hours.
---
15% Opalescence Tooth Whitening

15% MEDIUM Strength gel has a recommended wear time of up to 6 hours.
---
10% Opalescence Teeth Whitening
This MILD Tooth Whitening Gel contains 10% carbamide peroxide for those with sensitivity. ADA Accepted.
---
Opalescence Toothpaste

Opalescence Whitening Toothpaste can be used to extend and maintain results between treatments.
---
Opalescence UltraEZ

For those who experience mild sensitivity to bleaching agents, UltraEZ Desensitizing Gels use Potassium Nitrate to prevent discomfort.
---
Opalescence Whitening Systems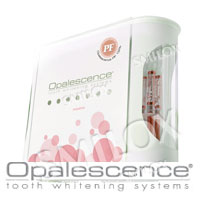 Opalescence complete at home whitening systems. A bright smile starts here.
---
Opalescence Tres White

TresWhite By Opalescence is the first pre-filled, adaptable, disposable whitening trays. TresWhite thin membrane tray is pre-loaded with a 10% hydrogen peroxide whitening gel for bleaching teeth fast.
---