Colgate Simply White Night Whitening Gel - Paint it on!
Whiten teeth at night while you sleep!
Simply White FAQ
Colgate Simply White Night Features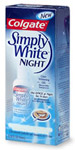 Convenient - one application per night
Safe for tooth enamel
Whitens teeth in 14 days and they stay whitened for up to 6 months!
Absorbs quickly - instantly dry - no need to wait
Apply in less than 1 minute
Removes stains below the surface of the tooth
No-Risk, money-back guarantee
0.34 fl oz (10ml)
---
Buy Simply White Whitening Gel here:
---
How to use Colgate Simply White Night:
Follow just 3 steps before going to sleep:
Brush teeth. When complete, dry the surface of your teeth
Apply layer of Simply White Gel one tooth at a time (try not to touch teeth for 30 seconds with lips or tongue)
Do not eat or drink for the next 15-30 minutes
Store in a cool place, away from heat. Use this product once per night for 14 nights.
Ingredients: Alcohol, Water, Carbamide Peroxide (Urea Peroxide), PEG 2M, Glycerin, Carbopol, Sodium Phosphate and Phosphoric Acid