Supersmile® Teeth Whitening Products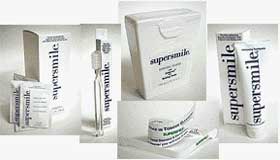 Supersmile teeth whitening toothpaste is the number one recommended whitening toothpaste by cosmetic dentists worldwide for maintaining bleached teeth as well as bonded and laminated teeth. It also works on crowns, caps, braces and dentures.
The patented formula uses Calprox™ to whiten teeth, baking soda for fresh breath and fluoride to prevent cavities. It quickly removes coffee, tea, tobacco and red wine stains leaving your mouth looking fabulous.
Supersmile is a revolutionary tooth whitening product. Developed by Dr. Irwin Smigel, President of the American Society for Dental Aesthetics and renowned cosmetic dentist, Supersmile is unlike any other teeth whitening toothpaste. It is the only toothpaste that dissolves the clear, sticky film (protein pellicle) to which plaque and stains attach - leaving your teeth smooth and clean.
Did you know that Supersmile is the teeth whitening toothpaste of choice for such celebrities as: Adam Sandler, Linda Evangelista, Jimmy Fallon, Calvin Klein, Johnny Depp, Robin Givens, Danny Aiello, Ivana Trump, Kate Moss, Kelly Ripa and more...
Supersmile Products
Supersmile Teeth Whitening Products
Buy supersmile toothpaste, super smile tooth whitening accelerator system, mouthrinse and floss.
Frequently Asked Questions about Supersmile Click here for more information on Super Smile whitening products.