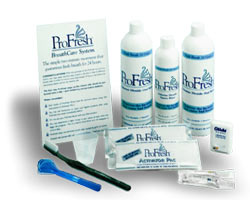 ProFresh® BreathCare System
Bad breath (halitosis) affects at least 50 million people in the United States - it can cause difficulties in both your personal and professional lives. ProFresh, with it's unique patented formula, is the most effective product available to help you cure your problem.
ProFresh is NOT A COVER UP PRODUCT - it attacks bad breath at the source, that is, the tongue. Studies have shown that bad breath is caused by bacteria that accumulate on the back of your tongue. ProFresh has been scientifically developed and proven clinically effective to remove the odor causing bacteria, eliminate the noxious odors they produce and leave patients with fresh clean breath. ProFresh has been clinically proven to be 99.3% effective when used as directed.
ProFresh® Oral Rinse patented formula differs from other products because it contains active chlorine dioxide that allows for the removal of odor-causing bacteria. The U.S. Patent awarded to Dr. Richter excludes any other oral rinse from containing any more than 0.0003% of chlorine dioxide (not a significant amount). Thousands of people have solved their bad breath problems with a simple daily regimen of ProFresh.
ProFresh® Breath Care Products
ProFresh BreathCare System
The ProFresh Breath Care System includes a one month supply of ProFresh Oral Rinse and provides you with a complete package of materials and instructions to achieve a new level of oral hygiene. Includes ProFresh Mouth Rinse, ProFresh Starter Rinse, Activator Packs, ProFresh Tongue Cleaner, Toothbrush, Glide Floss Package, 1 oz. Plastic Dispensing Cup, Instruction Manual and Information. (Retail Price: $39.95)
ProFresh BreathCare Products ProFresh Toothpaste, ProFresh Mouth Rinse, ProFresh Starter Rinse, Activator Packs and more.