HydraBrush™ Oral Health System
Electric toothbrush uses 6 guided heads to automatically brush teeth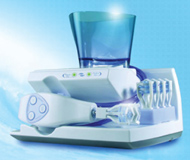 The most unique electric toothbrush of its kind - the Hydrabrush fully automates all aspects of brushing - eliminating errors and providing you with the most thorough brushing possible.
In order to effectively eliminate human error, HydraBrush had to "self-position" relative to the teeth and gums. HydraBrush™ does exactly that. It has six (6) brushes that are positioned to correctly contact tooth and gum surfaces. The user simply bites into the brushing head, and self-positioning is automatic. The brushes reciprocate in short strokes in accordance with ADA recommended "Bass" brushing technique, (placing bristles 1/2 on teeth and 1/2 on the gums at approximately a 45 degree angle, and brushing with a short/quick back and forth action).
Other power brushes boast their high speed spinning action (4,000 rpm and more), speeds that generate a feeling of discomfort. HydraBrush™ on the other hand relies on accurate bristle positioning to obtain effectiveness, and as a result, the brushes can reciprocate at a fraction of the speed of other products, resulting in user enjoyment of a comfortable massage with every use.
In addition to six brushes, HydraBrush™ has four (4) water jets that effectively oral irrigate during the brushing process. HydraBrush™ is much more effective than other oral irrigation devices because the water jets are preset to an angle that directs the pressurized fluid precisely into the gingival pockets and between teeth, again eliminating the element of human error.
HydraBrush™, with its six brushes and four water jets all working simultaneously, generates an oral cleansing with effectiveness far beyond that of any other oral care product. The cleaning process is also very enjoyable. A common testimonial of first-time HydraBrush users is along the lines of "it's like putting your teeth through an automatic car wash…just enjoy the ride and come out squeaky clean." Another common comment for first-time users is "it feels like I just got a cleaning from my dentist."
HydraBrush™ Products
HydraBrush Oral Health System
HydraBrush Oral Health System comprises a Counter Module with Power Handle, WaterCup, 2 pair of UltraSoft BrushHeads, Travelbrush with Travel tube, A/C adaptor, optional Hanging Bracket, Handle Wall Mount, and dishwasher-safe BrushTray. (Retail Price: $179.00)
HydraBrush Replacement BrushHeads and Parts HydraBrush replacement parts including: brushheads (ultra soft, standard, small), replacement watercup, and replacement power supply.