CloSYSII® Oral Health System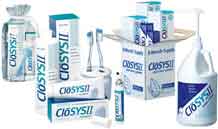 CloSYSII utilizes chlorine dioxide as the active ingredient that kills harmful bacteria and chemically eliminates the volatile sulfur compounds commonly known as bad breath.
The combination of CloSYSII toothpaste and CloSYSII Oral Finishing Rinse used twice daily in the regimen prescribed by your hygienist will make your mouth feel fresher and cleaner from the very first day. From the second day, you can feel confident that any breath problems are gone and will stay away as long as you follow the twice-a-day regimen. From the third week of use you will notice healthier looking gums as the removal of bacteria and volatile sulfur compounds allows the soft tissue to recover and regenerate.
The CloSYSII Oral Health System will set you on a preventive path that will assure retention of the teeth and gums that are so much a part of your overall appearance. The need for costly surgery and tooth replacement will never be an issue if you visit your dental professional every six months and follow your hygienist's instructions.
CloSYSII toothpaste and CloSYSII oral finishing rinse both contain chlorine dioxide at the optimal concentration and the optimal pH to effectively attack both the bacteria that are responsible for periodontal disease and the volatile sulphur compounds that facilitate permeation of the epithelial barrier (skin within the mouth). This two-pronged defense against bacterial attack of soft tissue promotes a cleaner fresher mouth and healthier looking gums.
Unlike other treatments, chlorine dioxide can be used every day without bacteria developing resistances, without staining of the teeth (it contributes to whitening!), and without any unpleasant aftertaste.
CloSYSII® Oral Health Products
CloSYSII® Patient Intro Kits
The IntroKits are designed to introduce you to Rowpar's CloSYSII® family of fine products. They contain a 16oz Oral Rinse, 3.5oz Toothpaste, Tongue Cleaner, Breath Spray and Patient Information Booklet. (Retail Price: from $19.95)
CloSYSII® Toothpaste (formerly RetarDENT® Toothpaste) CloSYSII® Toothpaste contains the CloSYSII® ingredient (a unique combination of chlorine dioxide and phosphate), a safe, non-toxic patented formula using the genuinely effective cleansing action of chlorine dioxide to keep everyone's mouth clean, fresh, and free of bacteria and bad breath (VSCs). CloSYSII Toothpaste is also one of the lowest in abrasivity of any toothpaste on the market, so it's safe for daily use. Another unique feature is that CloSYSII Toothpaste is one of a few that does not contain sodium lauryl sulfate which is commonly used, but has been linked to canker sores. (Retail Price: $7.99 (3.5 oz) / $11.99 (7 oz))
CloSYSII® Oral Spray CloSYSII Oral Spray is the first pocket/purse size oral spray containing the same patented chlorine dioxide technology used in CloSYSII® toothpaste and oral rinse! Great for touch ups when it is not convenient to brush, floss or rinse. (Retail Price: $3.95)
CloSYSII® Oral Rinse (formerly RetarDEX® Oral Rinse) CloSYSII® Oral Rinse provides coverage of the oral cavity after brushing. The patented formula works just as effectively in the Oral Rinse as it does in the toothpaste. It cleans and freshens your mouth, kills harmful bacterial, fights plaque and stops bad breath (VSCs) on contact. Unlike traditional mouthwashes, pH balanced CloSYSII Oral Rinse does not rely on an added flavor to cover bad breath. Unflavored, ALCOHOL-FREE CloSYSII Oral Rinse can be used as is, directly from the bottle. (You can optionally add the included mint flavoring by following the package instructions.) (Retail Price: $9.99 (16 oz) / $13.99 (32 oz))
CloSYSII® Tongue Cleaner (bag of 12) These tongue cleaners are made with a built in ridge to remove volatile sulfur compounds (VSCs) from the dorsum of the tongue. Great way to complete your oral hygiene regimine! (Retail Price: $19.99)
CloSYSII®, RetarDEX®, and RetarDENT® are registered trademarks of their respective companies.