AP-24™ ORAL CARE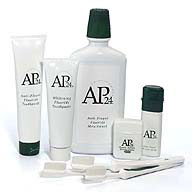 All AP-24 products contain a patented ingredient called AP-24.
AP-24 is a surfactant which when applied to the tooth, lowers its surface tension, making it slippery and too difficult for plaque to attach to the surface of the tooth. Reducing the surface tension, reduces the amount of bacteria and thus lowers the chance of cavities and gingivitis. The AP-24 ingredient is included in all the AP-24 products - even in the floss!
Unlike many products, AP-24 products do not use the mild detergents or alcohol which cause the mouth to dry out - and Xerostomia (dry mouth) is one of the main causes of bad breath, gingivitis and tooth decay.
This scientifically advanced line of oral health care products helps provide anti-plaque protection 24 hours a day. The ap-24® system features a patented plaque fighter and proprietary formulas - licensed under eight patents - to help prevent cavities.
AP-24® is a patented, plaque-fighting agent of medical-grade dimethicone and surfactants (poloxamer 407 and poloxamer 338). The secret behind this innovative formula is ultra emulsion with high molecular weight dimethicone. Ultra (or melt) emulsion means that in the manufacturing process, the dimethicone and surfactant ingredients are heated and melted down. They are then mixed together and become bonded to each other. Additional ingredients are added to the cooled mixture, and the whole product stays in liquid form to be used by the consumer. The results are an increase in plaque prevention, along with teeth that feel smooth and refreshed.
AP-24 Oral Care Products
AP-24™ Oral Care System
Includes one of each product, a travel-size mouthwash bottle, an AP-24 Oral Health brochure, and a green travel bag. (Retail Price: $39.40)
AP-24™ Whitening Fluoride Toothpaste AP-24® Whitening Fluoride Toothpaste. (Retail Price: $9.50)
AP-24™ Anti-Plaque Fluoride Toothpaste Cavity-fighting formula helps fight plaque with twice the cleansers of regular toothpaste. Sweetens breath with vanillamint. (Retail Price: $8.60)
AP-24™ Breath Spray Part of a totally integrated system, AP-24 Anti-Plaque Breath Spray fights plaque build-up while freshening breath in a convenient alcohol-free spray. (Retail Price: $5.00)
AP-24™ Toothbrush (3 pack) Experience the latest in oral care technology. This specially designed toothbrush helps remove up to 30% more plaque than other toothbrushes on the market. (Retail Price: $10.20)
AP-24™ Fluoride Mouthwash Fights plaque and freshens breath with an alcohol-free formula. (Retail Price: $7.10)
AP-24™ Gentle Action Dental Floss Loaded with great-tasting vanillamint and patented AP-24, this floss puffs up to more effectively remove debris and plaque. (Retail Price: $4.00)