TheraBreath Starter Kit
[<< Back to TheraBreath Main Page]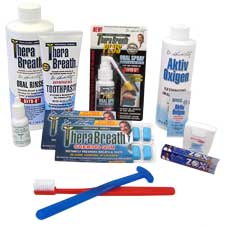 · 1 Oral Rinse
· 1 Toothpaste
· 2 AktivOxigen Tablets
· 1 Mixing Bottle for AktivOxigen Rinse
· 1 PowerDrops
· 1 TheraBreath PLUS Extinguisher Spray ("Breath" or "Oral" Spray)
· 2 (12 pieces) TheraBreath Chewing Gum
· 1 Roll of ZOX Mints
· 1 Tongue Cleaner
· 1 Toothbrush
· 1 CleanBurst Dental Floss
---
Where to buy
·
Buy TheraBreath Starter Kit
·
TheraBreath Products at Amazon.com
·
Free TheraBreath Trial (subscription plan)
·
TheraBreath Direct Catalog (www.therabreath.com)
---

Try the TheraBreath Basic Starter Kit (3 products)
All you need to try the TheraBreath System. Contains 1 Tongue Cleaner, 1 Bottle Oral Rinse 473ml/ 16 fl. oz., 1 Tube Fluoridated Tooth Gel 112g/ 4 fl. oz. (Price: $15.49)
[Buy TheraBreath Basic Starter Kit]
---
Description
TheraBreath System
TheraBreath products are made with proprietary pharmaceutical-grade chlorine dioxide and specific oxychlor complexes, both in the active and stabilized formats, using technology developed by the leading scientists in this field.
The TheraBreath System and its products are based on highly potent, but extremely safe Oxyd-VIII™. Oxyd-VIII is a refined and properly pH balanced formula derived from a chemical used in water purification for over 100 years, Sodium Chlorite.
TheraBreath is the system that tackles all of the sources of bad breath including the tongue, throat, tonsils and naso-sinus. TheraBreath also works on dry mouth, sour/bitter metallic tastes and unhealthy gums.
Unlike many popular oral products, TheraBreath does not contain: alcohol, sodium lauryl sulfate, saccharin, benzalkonium chloride, or artificial colors / flavors.