New Oral-B® Sonic Complete™
(Models: S-200 / S-300 / S-320 / S-340)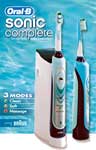 Oral-B Electric Toothbrushes
Sonic Complete: Benefits of Sonic Wave Technology:
Gentle power - no irritation teeth and gums like other high-speed brushes
Better cleaning action than a manual toothbrush
Remove plaque and prevent gum disease
Improve gingival health - get tight, healthy gums
Naturally whiten your teeth
Long lasting rechargeable power – up to 14 days on one charge - without batteries
Sonic Complete™ Features
3 Speeds (may vary by model):

Clean - 31,000 vibrations per minute - highspeed cleaning and removal of plaque
Soft - 29,400 lower strength vibrations per minute - brushing tongue and other sensitive areas (soft tissue)
Massage - 24,000 - 33,600 variable strength vibrations per minute - stimulating and maintaining the health of the gums

BrushHead contains 3 Bristle Types

CrissCross bristles - angled cleaning
Power-Tip bristles - long interdental cleaning
Indicator bristles - lets you know when to change heads

Professional 2-Minute Timer: signals every 30 seconds and at 2 minutes - for achieving detist-recommended brushing time
Slim lightweight handle with Recharge Indicator
Charger Base and Storage tower - hygenic storage for up to 3 additional heads (4 total)
Uses Oral-B Sonic Complete brushhead refills and any toothpaste
Sonic Complete S-200 Includes Additional Features:
2 Speeds - Clean and Soft
1 brushhead
Buy it here:
Sonic Complete S-320 Includes Additional Features:
3 Speeds - Clean, Soft, Massage
2 Brushheads
Buy it here:
Sonic Complete S-340 Includes Additional Features:
3 Speeds - Clean, Soft, Massage
2 Brushheads
1 Deluxe travel case
1 Oral B Hummingbird Power Flosser
1 Oral B Rembrandt Whitening Toothpaste (2.6oz)
Buy it here:
Oral-B Sonic Complete Details
This product is the first product with sonic technology from Oral-B. It is comparable to the Sonicare Elite Models - offering the same or better functionality with less cost. One important difference is that the heads are slightly larger and softer on the Oral-B, yet still not so large that they irritate gums - one could say it is the perfect size - just right. This is an advantage in that it can cover more surface area, reach between teeth, and is gentler on gums/soft tissue than the comparable Sonicare.
It differs from the Excel-3D line of products (i.e. the ProfessionalCare Series) in that it uses sonic technology (i.e. wave forms) to help clean teeth. It's customized speed control with Massage option is unique - and highly pleasurable when used during brushing.
---
More Information on the Oral-B Sonic Complete:
---
ORAL-B: Dental Floss | Manual Toothbrushes | Replacement BrushHeads | Electric Toothbrushes | Battery Power Toothbrushes | All OralB