Denture Guide
All About Dentures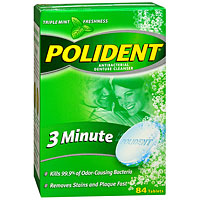 What are dentures? Dentures are artificial teeth - commonly referred to as false teeth. The denture functions as dental prosthetic, taking the place of removed or missing teeth. Dentures allow people to maintain the same levels of chewing and speech ability, aesthetics, and self esteem that they were accustomed to when they had their natural teeth.
Why do people need dentures? People may need dentures for a number of reasons including accidents that knocked out teeth and dental health issues that required pulling teeth. Because of the varying number of missing teeth, dentures are available in partials for subsets of top and bottom arches, or as complete upper and lower sets.
Out of what material are dentures made? Dentures can be constructed out of a number of different materials. The tooth sections are typically made from either synthetic plastic resins, or for a more natural appearance, porcelain. The framework can be made from flexible nylon, metal alloys, ceramics, acrylics, or a combination of these materials.
How do dentures work? Dentures are prosthetic teeth that attach to the gums using adhesives. A secure denture adhesive holds teeth in place for up to 12 hours. Dental adhesives come in the form of creams, powders, or strips.
---
Denture Adhesives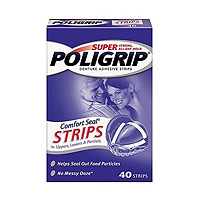 What kind of adhesives do I have to choose from? There are three basic adhesive options for dentures: creams, powders, and strips.
What is the difference between Denture creams, powders and strips?
• Creams: Creams have a strong hold that lasts for the entire day and allow you to place adhesive exactly where you need it. Creams also help seal out food particles that can cause gum irritation. Products like the Denture Adhesive Cream from Super Poligrip have a unique Ooze-Control Tip on each tube that allows for the application of thinner strips of cream, providing more precise control and limiting the excess product that can extrude from contact points.
• Powders: Powders such as Super Poligrip's Denture Adhesive Powder also have a strong hold that is meant to last the entire day (up to 12 hours). They help provide a seal against food particles, and are less messy than creams, since there is little chance of a cream oozing over the sides of the denture.
• Strips: Strips are designed to have a strong hold for the entire day, and also provide a closer more natural fit. Strips provide the same strength of adhesive as the two other types, but without the mess, taste, or chance of oozing. For example, Poligrip's Denture Adhesive Strips are measured out with the appropriate amount of adhesive on them, so you need only trim them to the proper size when necessary.
How much adhesive should I use? The recommendations on the packaging will give you a good starting point. If this turns out to be too much, reduce the amount used each day until the perfect amount is reached. If you feel this is not enough and you are not getting a secure hold, increase the amount in small increments, using no more than is necessary. Amounts will vary based on the size of the denture.
---
Denture Care
Application and Removal
How to apply denture adhesive cream
Clean and dry dentures.
Apply cream in short thin lines, not too close to the denture edges.
Rinse your mouth before inserting dentures.
Press the dentures securely into place, hold firmly, and then bite down.
How to apply denture adhesive strips
Clean and dry dentures.
Peel open and remove strips, making sure your hands are dry first.
Lightly moisten one strip at a time with water.
Place strips on the denture, not too close to the edges.
Be sure not to overlap the strips.
Rinse your mouth before inserting dentures.
Press the dentures firmly into position, hold tightly, and then bite down.
How to apply denture adhesive powder
Clean dentures thoroughly and then leave wet when finished.
Open cap, and apply evenly by squeezing the bottle.
For uppers, dispense over a large surface area, moving from the front to back of the denture.
For lowers, dispense in a thin line, moving along the entire "U" shaped channel.
Shake off any excess powder.
Position the dentures securely onto gums, hold firmly, and then bite down.
Be sure to keep the bottle tip dry so the opening does not clog.
How to remove dentures
Rinse your mouth with warm water.
Slowly rock the denture back and forth to remove it from mouth.
Remove leftover adhesive from your gums with warm water and a soft toothbrush.
Remove leftover adhesive from dentures with warm water and a soft toothbrush as well.
Maintenance and Cleaning

How can I clean dentures? Can I use regular toothpaste? It is not recommended to use ordinary toothpaste for dentures, since these products can be overly abrasive, accelerating wear and causing damage to their surface. Cleaning with regular toothpaste can scratch the polished finish on most dentures, allowing germs to gather and grow in the small gaps left behind. It is best to use denture toothpaste, or a denture cleaner such as Polident, to avoid these problems. Always use a soft bristled toothbrush on dentures.
Should I soak or brush my dentures? The best answer is to do both. Soaking dentures in a denture bath filled with cleanser, such as Polident 3 Minute Cleaner will help disinfect the teeth. Specialty cleansers for whitening dentures such as Overnight White, help remove stains and lighten surfaces. Brushing dentures after the soak will eliminate plaque, leftover foodstuffs and other particulates.