Under Armour Mouthwear Freshener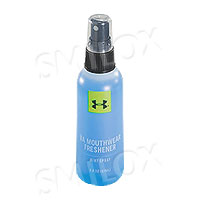 Other products by Under Armour
Price: $8.88 $7.99
Shipping: FREE!
Description: The UA Mouthwear Freshener from Under Armour is a mouthguard spray designed to help stop the growth of bacteria on mouth guards and other oral appliances. It features a peppermint flavor for freshness and comes in a travel size bottle ideal for lockers or gym bags. (57mL)
Size: 2 oz
Features:
Helps prevent the growth of germs and bacteria
Peppermint flavor for a clean, fresh taste
Travel-size bottle for convenient on-the-go use
Designed to last for 250+ applications per bottle
2oz bottle with spray-top
---
UA Mouthwear Freshener - Product Details:
Under Armour Anti-Microbial Mouthwear Freshener
Help stop the growth of bacteria on mouth guards with the Under Armour Mouthwear Freshener.

The freshening spray is deigned to help prevent the growth of germs on oral devices and has a mint flavor for added freshness. The UnderArmour Mouth Wear Freshener comes in a convenient travel size bottle to easily fit into gym bags or lockers.

Instructions
Spray on mouthguards before and after each use for a fresh, clean mint taste. For best results, spray onto mouthwear from a distance of approximately five inches.
---
---
Customer Reviews
Read reviews for UA Mouthwear Freshener
Please login to write a review of your own!
There are currently no reviews for this product.
Be the first to review it!
---
Under Armour, as well as any other registered trademarks, service marks, product and service names, and company names or logos that appear on this site are the property of their respective owners, who may not be affiliated with Smilox.com.
* Important Notices About This Product Information:
Information on this site is provided for informational purposes and is not meant to substitute for the advice provided by your own physician or other medical professional. You should not use the information contained herein for diagnosing or treating a health problem or disease, or prescribing any medication. You should read carefully all product packaging. If you have or suspect that you have a medical problem, promptly contact your health care provider. Information and statements have not been evaluated by the Food and Drug Administration and are not intended to diagnose, treat, cure, or prevent any disease.
Regarding Our Whitening Products: Although these items are brought to you by professional dentists, always check with your dentist and physician before any dental treatment. Do not use these items in place or substitute of any dental treatment. Crowns, caps, fillings, dentures, cavities, or bridges will not bleach or change color. Also, do not use such products if you are pregnant, nursing, or wearing braces. If swelling of the gums, pain, or any other questionable symptoms occur during use, stop immediately and see your dentist. All teeth will not whiten the same. Grayish and brownish teeth will not whiten as well as yellow-hued teeth. Do not freeze the gels.
Shipping estimates are based on domestic shipping (USA) - international rates will vary. Product information provided on this website is believed to be accurate but is not guaranteed. Prices are subject to change without notice. Product packaging is subject to change without notice. Images of the product and/or product packaging displayed online may differ from the actual product shipped. When available, newer versions of products may be substituted for older versions without notice.