Sulcabrush Replacement Tips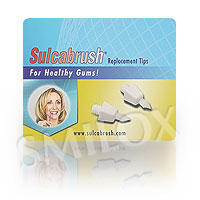 Other products by Sulcabrush
Price: $5.88 $5.29
Shipping: FREE!
Description: Sulcabrush Replacement Tips are designed to be used with the Sulcabrush Handle to help remove plaque and tartar along the gum line and around bridges, crowns, implants, and orthodontic appliances. (2 replacement tips)
Size: 2 Brush Tips
Features:
Help remove plaque and tartar
Ideal for those that have trouble flossing
Unituft design for effectiveness and maneuverability
Ideal for cleaning around crowns, bridges, and orthodontics
Designed to help stop bleeding gums
Contains two refill tips
---
Sulcabrush Refill Tips - Product Details:
Sulcabrush Replacement Tips


Help remove plaque, tartar, and debris around teeth and gums with Sulcabrush Replacement Tips.

The refill heads are intended to be used with the Sulcabrush Handle to clean around orthodontics, bridges, crowns, and implants. They are designed to help remove plaque, massage along the gumline, and promote healthier gums.
---
---
Customer Reviews
Read reviews for Sulcabrush Refill Tips
Please login to write a review of your own!
There are currently no reviews for this product.
Be the first to review it!
---
Sulcabrush and Sulcabrush Inc., as well as any other registered trademarks, service marks, product and service names, and company names or logos that appear on this site are the property of their respective owners, who may not be affiliated with Smilox.com.
* Important Notices About This Product Information:
Information on this site is provided for informational purposes and is not meant to substitute for the advice provided by your own physician or other medical professional. You should not use the information contained herein for diagnosing or treating a health problem or disease, or prescribing any medication. You should read carefully all product packaging. If you have or suspect that you have a medical problem, promptly contact your health care provider. Information and statements have not been evaluated by the Food and Drug Administration and are not intended to diagnose, treat, cure, or prevent any disease.
Regarding Our Whitening Products: Although these items are brought to you by professional dentists, always check with your dentist and physician before any dental treatment. Do not use these items in place or substitute of any dental treatment. Crowns, caps, fillings, dentures, cavities, or bridges will not bleach or change color. Also, do not use such products if you are pregnant, nursing, or wearing braces. If swelling of the gums, pain, or any other questionable symptoms occur during use, stop immediately and see your dentist. All teeth will not whiten the same. Grayish and brownish teeth will not whiten as well as yellow-hued teeth. Do not freeze the gels.
Shipping estimates are based on domestic shipping (USA) - international rates will vary. Product information provided on this website is believed to be accurate but is not guaranteed. Prices are subject to change without notice. Product packaging is subject to change without notice. Images of the product and/or product packaging displayed online may differ from the actual product shipped. When available, newer versions of products may be substituted for older versions without notice.